Interview with Rob De Groot
Rob De Groot hails from Holland and is an international Stunt performer with a list of credits as long as your arm, he has worked as a stuntman for many years and now you will find him doubling Dave Bautista. Rob is a big guy who moves with the grace of a ballerina but with the power of a Rhino. We get up close and personal with Rob to see what it takes to be that big and still move so well.
Rob please tell us a little bit about yourself and how you got into the film industry.
I'm 45 years old and live in Holland. I'm a single father of two awesome kids. I got a son and a daughter! As of young age I was already quite active, always playing outside doing different kind of sports. Then I started to do martial arts. I trained every day. Always trying to get better, when it felt like I could do better I pushed myself even more. I always put a lot of effort in to my training. That rule still goes for me, off course when you become a bit older you have to train smarter to get the same results. I'm a stunt performer for 17 years now but it was never my goal to become one. Sometimes things just runs differently I guess. A friend of mine who trained at the same gym as me was a stuntman. He always said that I should do stunts as well but I never gave it much thought. One day he asked me if I wanted to join him for audition in Luxumbourg. There was a Hong Kong stunt team on the show. Because i trained WuShu for almost 10 years he said it would fit me well. Finally decided to come and I did the audition. It was a Great day, the Chinese guys never saw someone as big as me doing the same stuff they were doing. I received applause as well form my effort hahaha. At the end of the day I was hired to do the job. I guess thats the start of my stunt career.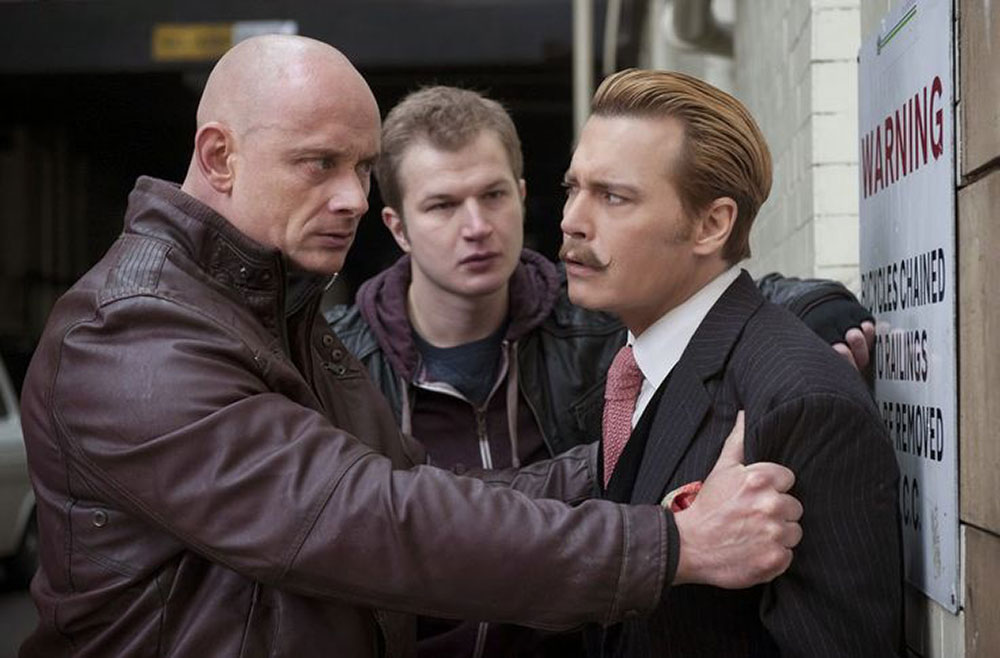 Rob playing the henchman and ruffing up Johnny Depp in the film Mortdecai.
Rob as the meaning of your name states (in dutch) you are a big guy. Can you talk us through your training regimen and does this change depending on what project you are working on.
It's important for me to keep size. The actor I'm doubling is a big guy so that's my main priority. It also became my trademark I think. 'Big' but still able to move. My training involves a lot of weight training. Not so much to gain weight, but to maintain what I have. A minimum of 4 times a week I train with weights. Besides weights I also do a lot of stretching and different exercises to keep my body agile. I'm not a big fan of doing cardio. My cardio is to hit and kick on a bag. My training schedule is not as strict when I'm on location as when I'm at home. On location I have to adjust a lot of my training and try to find the right balance. But the pressure to stay on weight and keep size is always on my shoulders. Depending on what kind of projects I'm doing my training adjusts as well. Then I will train specific items that are required for the job.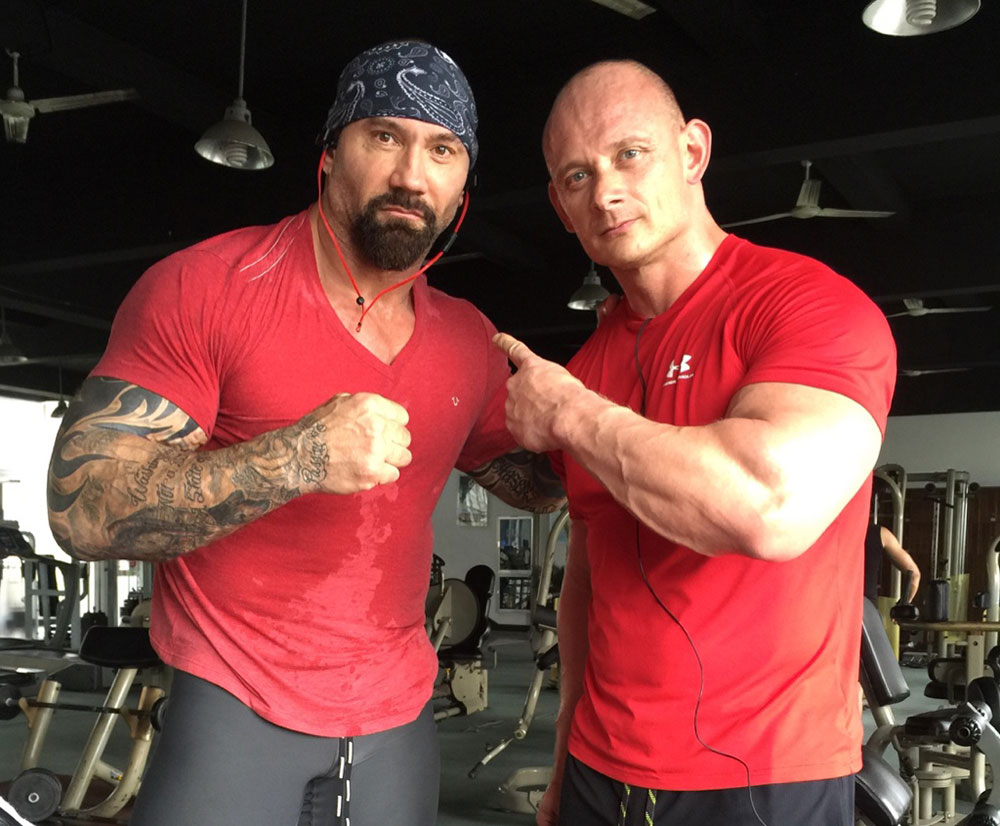 Rob training with Dave Bautista whilst filming in China.
To stay this size means eating a lot of food could you take us through what you need to do nutritionally to maintain this physique day in and day out?
Eating lots of food and strict diets! That's the only thing I'm not so good at. It's always an issue for me, I really have to push myself to eat. Yes you have to eat a lot of food, but when your filming it's not always there when you need it. And if it's there, 80% of the time it's not the healthy food you would like to eat. But I always try to eat as much and clean as possible, but even though my diet could be better I still managed to stay on weight. I hope to get 6-7 meals a day, but most of the time I'll end up having 4-5. When I'm working it can be even less. It also has a lot to do what location I'm at. Mornings I always try to start off with oats and a couple of egg white. I'm not using any weight gainer shakes, only whey protein. Most of the gainer shakes contains a lot of sugar. That's something I really try to avoid. I get my protein out of turkey, chicken, egg white, Greek yoghurt and some other products. I also eat a lot of salmon, avocado, sweet potato and different kind of nuts. These food products you always find in one of my meals during the day.
At 120kg you have a lot of weight to move around. Can you give an insight to our readers on what it takes to be a big guy that moves as well as you do.
My foundation to all of this would be my martial arts. I have done all different kinds of martial arts starting from when I was young. Even when I train weights I always throw some kicks and punches between the sets, or I do some stretching exercises. Keeping my mobility and staying agile when I gained weight was very important to me. I also have done some gymnastics so I'm also capable doing flips and all other kind of things. My weight never bothered me that much doing all of these things. Off course when you're getting heavier you notice you're timing is slightly different. But the weight never stopped me from doing what I loved to do.
Rob what do you feel is your greatest achievement within the industry to date, where would you like your career to take you.
I think my greatest achievement within the industry to date is me being the main stunt double of Dave Bautista. So far I have done 10 movies with him together and still going. I'm fortunate that he want's to bring me to every show he's going to do. It's an honour when you get to be the main stunt double for an actor because it tells you that you must be doing something right. It becomes more then just doubling him; you're becoming friends as well and looking after him. But no matter how many films you're doing together, you always have to stay professional. It's an unwritten rule that nobody can teach you. You need to feel it and be aware of to know when you're presence is wanted or not. No matter how many films were doing together I know I still have to do my job at high level and make him look good. That's what it's about on every job you're doing.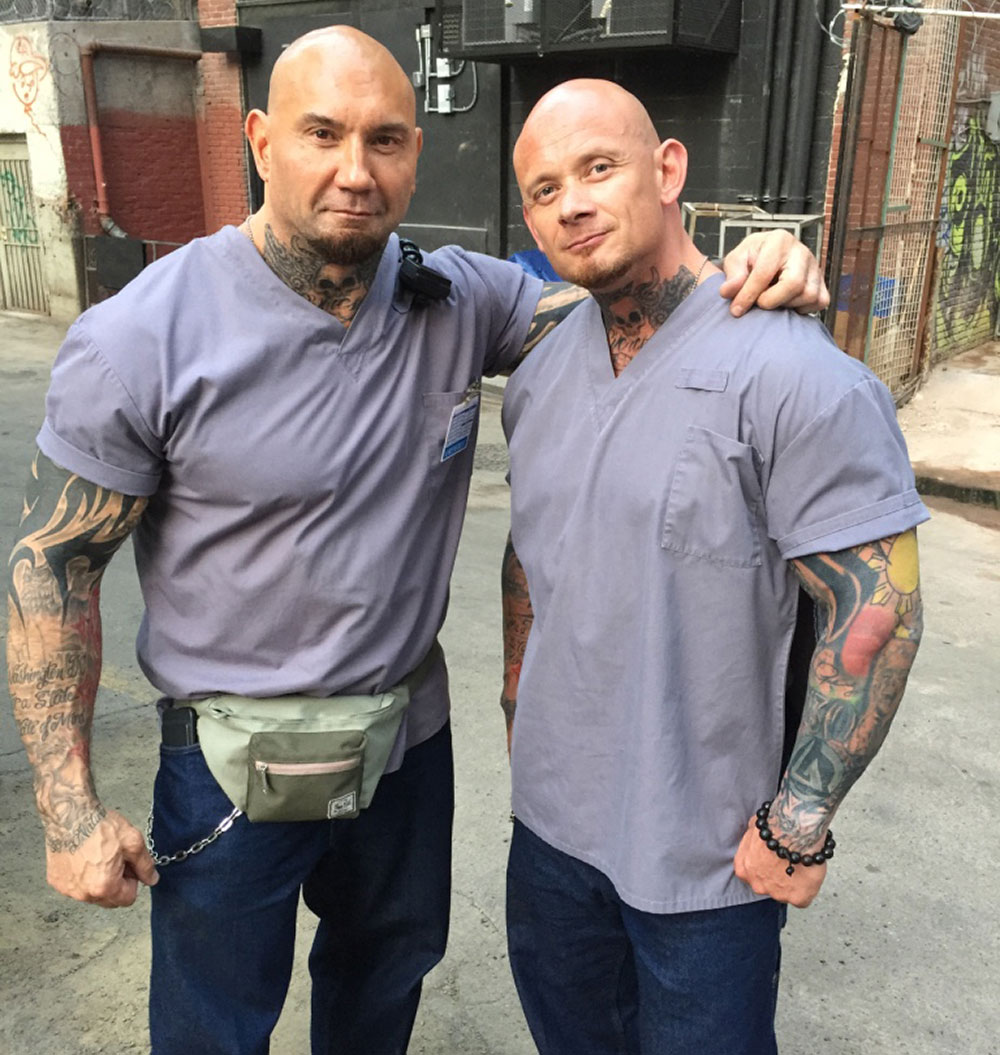 Rob hanging out with his buddy and acting double Dave Bautista!
You are a busy man working long hours all over the world how do you juggle work, training and family life.
It's not easy, that's one thing for sure. But you got to make it work. Of course when I'm away from home I miss my family a lot and they miss me as well. Fortunately there are many ways to communicate with them these days. At the same time they're proud of what I'm doing and they are telling their friends what film I'm working on. You're working long hours; but you still have to find time to train. It's part of the job. When you're working on locations in different country's it sometimes can be very challenging. There is not always a gym around or other facilities to get training done. And if you find one, most of the time they don't have the equipment you need too. Sometimes you're so tired all you can think off is getting to sleep. When on location I'm always adjusting my training. Less sets, super sets and HIT training. To me It's more about quick intense training sessions.
If there was only one food on the planet what would you want it to be?
I think that would be pasta, all different kind of pasta. I'm a huge fan of the Italian kitchen. But I pretty much eat everything. Yes I try to eat as clean as possible but I have no problem to eat a big slice of pizza!
You have a heavily influenced background in martial arts, what films growing up have influenced or inspired you to be where you are today.
When I was young I watched all different kind of martial arts films. My favourite one's are the movies with Jackie Chan in it. I watched them over and over again. As soon as I watched a film I went outside to practice with friends. We were always training and trying all different kinds of stuff. That's all what we were thinking of. We were always challenging each other. Bruce Lee, Jackie Chan, Jet Li, Chuck Norris, Jean Claude van Damme. Just a few names that inspired me a lot when I was young. Watching these movie's didn't inspire me to become a stuntman though, it inspired me to become better and better in doing martial arts. I have done all different kinds of martial arts but I have to say Wu Shu was the one that really gave me my foundation. It gave me more insight knowledge of how my body could move. Training with all different kind of weapons also helped out a lot at where I am today.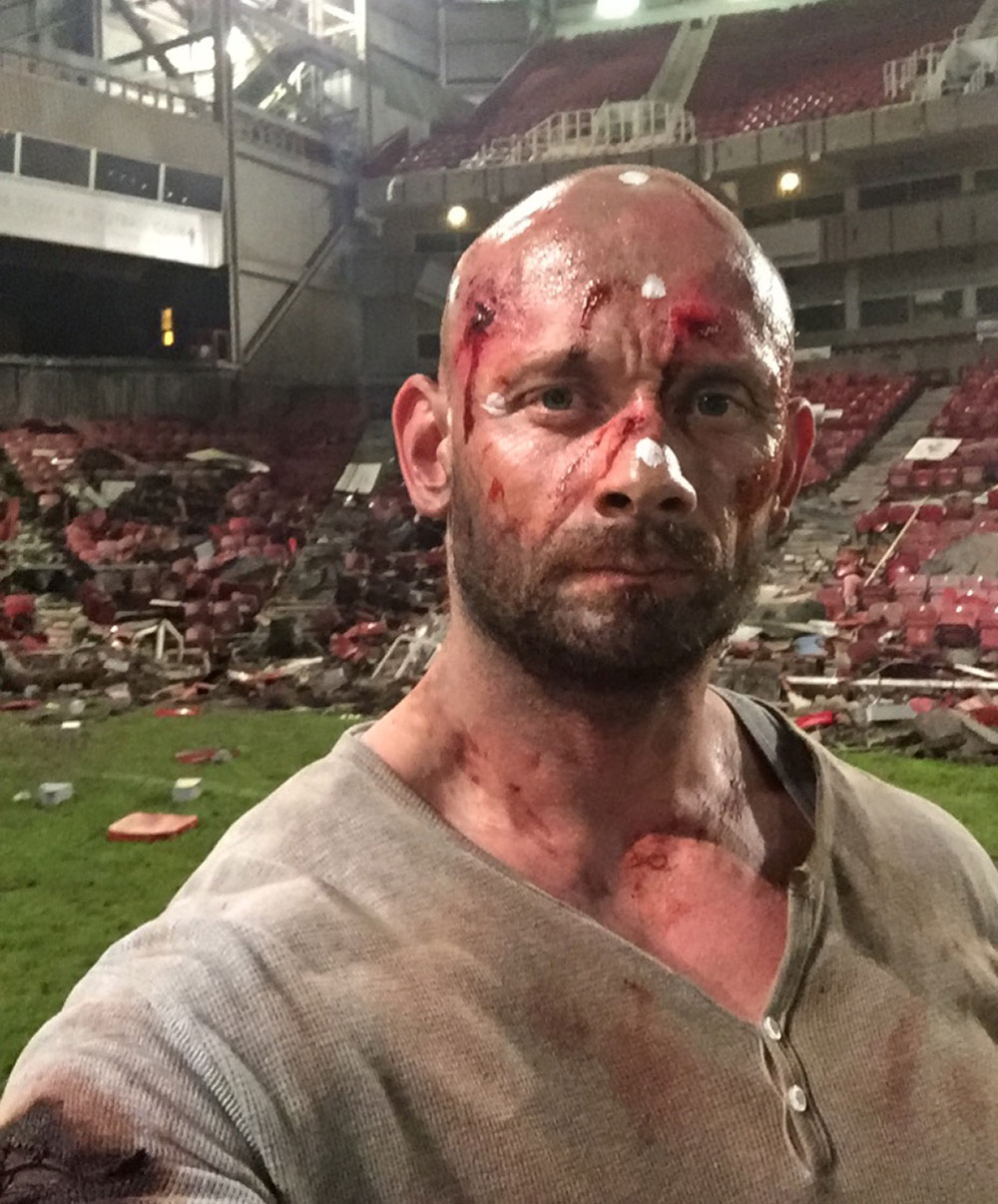 Just another tuff day in the office – on set for the film 'Final Score'.
Rob is there any advice you could give to the future stars of our world that want to follow their dreams.
Be passioned about what you are doing and work hard for what you want to accomplish. Set achievable goals for yourself, as soon you have accomplished you're goal set up the next one. Don't be afraid to fail, learn from it and try to use it after you move on. During the journey you will receive lots of advice from different people. Use what fits you, and at the same time create your own path. Sure it's not easy but keep pushing yourself. Always try to stay open to learn. Even when that means stepping out of you're comfort zone. The beauty about the job were doing, it brings you all over the world meeting different people. With different views, different way of thinking, different way of doing things. Learn from it so you will get more knowledge and experience. Always try to stay humble and thankful. Take nothing for granted. Even though you try all of this there are still no guarantees that you will succeed. Don't give up, sometimes all it needs is a bit more time and a little bit of luck. Trust me I know!
For more about Rob, check out: